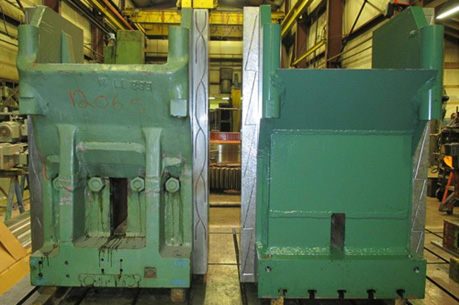 Problem
With the boom in the auto industry, a customer of ours at D&S Machine Repair, Inc. was producing very large volumes of high strength and ultra-high strength steel components, which was putting heavy strain on their 1500 ton Bliss press. Over time, the original cast iron slide developed persistent cracks in an area that had already been braze-repaired on several occasions, and the wrist pocket became so damaged it could no longer hold oil.
Solution
Our technicians cleaned, inspected, and took detailed measurements of the existing slide to reverse engineer a 3D model and create a detailed list of all the components. After a diagnostic evaluation, we engineered several upgrades to the original design that would provide greater strength and stability while improving the slide's functionality. By shortening the knockout hole we could increase the material thickness under the wrist pocket to avoid future damage. Increasing the thickness of the slide face would extend its wear life, while adding T-slots would serve to facilitate die fastening and speed changeover.
Inside our shop, we used a full range of fabrication capabilities to execute the repairs and improvements. In addition to plasma cutting cast iron and steel plate, we machined the new and replacement components, ground them to OEM tolerances, and made precision weld repairs to restore the worn areas. A fresh coat of paint made the press look new. Numerous dimensional and visual inspections throughout each of the many processes ensured that we upheld close ±0.001″ tolerances on all on this large cast iron press slide, which featured dimensions of 41.0″ in width x 34″ in depth x 60.50″ in height.
Within a six week time frame, the press was back on their factory floor operating at full capacity. Our solid understanding of stamping press technology combined with our expert fabrication and repair skills allowed the customer to improve their throughput and gain extended value from their expensive capital equipment.
To learn more about this project or the engineering and fabrication processes we used to refurbish it, contact us today.
Capabilities Applied/Processes
Reverse Engineering
Engineering Modeling – Redesign/ Upgrade
Machining
Milling
Boring
Drilling
Grinding
Welding
Flame/Plasma Cutting
Height: 60.50″
Depth: 34.00″
Width: 41.00″
High-Strength and Ultra-high Strength Steel
In-Process Testing/Inspection Performed
Dimensional Inspection
Visual Inspection
Customer Specifications
CAD Drawing