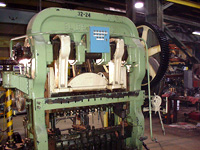 We received this machine from the Army. The machine is specialized to make .50 caliber jacketed projectiles for the Army. This machine came to us from their on base storage facility. The machine had not been used for production in decades. Many of the functioning components for the feed and transfer systems had been scavenged from this machine over the years to keep other machines operational. Our customer wanted this machine completely rebuilt and updated with the latest technology so that they could increase production from this machine. The machine was totally disassembled. All painted components were sand blasted to remove all existing paint. The components were then all inspected and machined to OEM specifications. The crank shaft was straightened and polished; slide and frame were bored and milled to ensure parallelism. We engineered and installed an Ortlinghaus clutch conversion for this press to replace the full revolution mechanical clutch. Air counterbalance cylinders were also added to this machine to reduce press wear and increase stopping time.
We also designed and installed an Allen-Bradley Clutch/brake control kit. The Rockwell Clutch/Brake Control system used on this press is a DC version with customized code written specifically for D&S Machine Repair, Inc. It utilizes two independent MicroLogix1500 processors. Both controllers monitor all clutch/brake I/O and exchange information about machine status via hard wire I/O. Both processors independently generate operator prompts and machine faults which are displayed on the Panel View 600 Prompts & Faults Screen.
All of these features we added allowed our customer to increase production speeds while also incorporating a much higher level of die protection.